The ADa Wedding stationery Collection
Soft and romantic oversized Marigolds bloom across the Ada Wedding Stationery Collection. This classic, elegant and timeless design features a modern calligraphy font and stylised floral illustrations. Within this collection, there is the option to add a belly band and an initialed badge. For this reason, the Ada invitation is easy to personalise and make unique to you.
Mix and match items available in this collection: Save the date, invitation, belly band, initialed badge, information cards, RSVP card, lined envelope, plain envelope, order of service, order of the day, place names, table numbers, table plan, menu card, thank you card.
A flower cannot blossom without sunshine, and a man cannot live without love.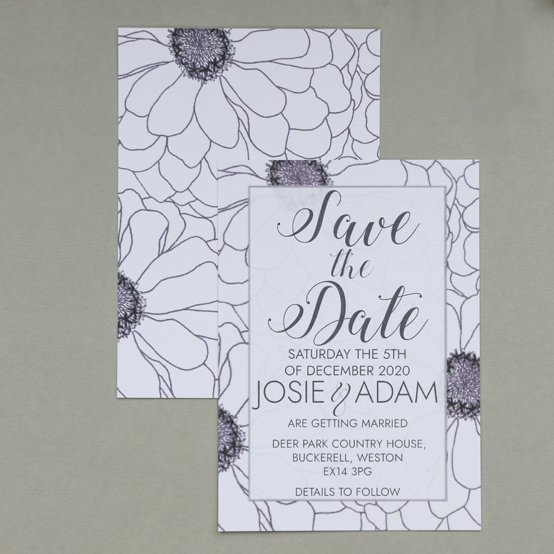 As with all of our collections, the Ada Wedding Stationery Collection can be customised. With the option to include an illustrated belly band to hold your invitations, RSVPs and information cards in one perfectly packaged set. As well as this, the Ada design is available in white, grey or burgundy, (but if you have a different colour scheme let us know as it may be an option too!). And to finish the collection, choose from plain, coloured or lined envelopes.
Prices from £3.99 
(includes A5 invitation, A6 RSVP and illustrated belly band)
BEFORE THE DAY ITEMS | THE ADA WEDDING STATIONERY COLLECTION
SAVE THE DATES
Set the scene for your wedding day and send out these elegant save the date cards. Once you've chosen your date, it's time to tell your guests to put it in their diaries. The save the date from the Ada Wedding Stationery Collection is an A6 (148mm by 105mm) flat design. Like many of our collections, it has been created with a classic and romantic theme in mind. It features a subtle, linear, floral design and is printed on a luxury 340gsm matt card. 
INVITATIONS
The Ada invitation is a flat A5 (148mm by 210mm) invitation featuring oversize Marigolds that bloom across the front and the back. Like the save the dates, the invitations are printed on a luxury 340gsm matt card. When you order your initiations, let us know how many invitations will be day invitations and how many will be evening invitations, as the wording will be slightly different. 
RSVPS
The RSVP card from the Ada wedding collection is an A5, flat card and can be printed on both sides. As with the invitations and save the date, a matching floral design is printed on a luxury 340gsm card. If you are giving your guests a choice of menu, prior to the day, you can include this on the back of your RSVP. Then each guest can select their option on the RSVP and send the card back to you as their wedding acceptance. Alternatively, you could add your home address to one side of the RSVP, like a postcard. However, if your address is not printed on the RSVP card, you will need to let us know to include an envelope for guests to post the RSVP back to you.
INFORMATION CARDS
This stationery suite has the option to include A6 information cards. As with the rest of the collection, the cards are printed on a luxury matt 340gsm card. They can also be single or double-sided. Generally, we suggest you include up to three information cards, each one holding extra details about the day. For example, you can include more information about the location, directions, timings, photography, accommodation and gifts.
FINISHING TOUCHES
Similarly to the rest of our House Collections, this collection has a variety of finish options. Firstly, you can opt to add a belly band, featuring oversized flowers to match the invitation. This band goes around the invitations and holds your information cards, RSVP and menu together (depending on which items you choose to include) in one neat invitation pack. Secondly, add an even more personal touch with a diamond-shaped badge attached to the center of the band, printed with your initials. Or if you prefer, you can choose to leave the cards loose.
ENVELOPES
Select from plain, coloured, or brown envelopes. In addition to a choice between envelopes, you can also have them lined with a design to match your stationery items, too.
MENU CARDS
If you wish to include menu cards in your wedding invitation packs, we recommend A6 cards to neatly sit with the invitations. We'd recommend A6 menu cards if you are displaying them on place settings at your wedding reception, too. Because the table settings can get quite busy (with place-names, favours and glasses) we suggest keeping individual menus fairly small in size. But, if you are planning on displaying just one or two menus per table we suggest an A5 menu card
ON THE DAY ITEMS | THE ADA WEDDING STATIONERY COLLECTION
TABLE NUMBERS
The table numbers are, of course, used to help guests find their seats at the wedding reception. With this in mind, each table number card clearly displays the table number (or name). Additionally, the table numbers are printed in A5 and are double-sided so they can be read from each side of the table. In keeping with the rest of the collection, the table numbers feature a matching floral design. They are printed on luxury 340gsm matt card.
PLACE-NAME CARDS
When it comes to place-name cards from the Ada Wedding Stationery Collection, again you have options. The place-name cards can be either a flat design or folded card. In each format, the over-sized floral design is featured. Likewise, either format can be printed with an individual guest's name or left blank for you to write in the names yourself. The latter is a more budget-friendly option.
TABLE PLAN
Generally, our table plans are printed on an A1 (549mm by 841mm) or A2 (420mm by 594mm) mountboard, usually designed to display on an easel. However, if you have a different idea or requirement please let us know. The table plan will also feature illustrated flowers to match the rest of the collection.
ORDER OF THE DAY
Our order of the day boards are printed on an A1 or A2 mountboard and are usually displayed on an easel. But, if you have a different idea or requirement please get in touch. Alternatively, you could choose to hand each guest an individual A6 card with the order of the day printed on it. Whichever you choose, the design will be in keeping with the rest of the collection.
ORDER OF SERVICE
The order of service in the Ada wedding stationery collection can be either a double-sided A5 design or a square folded card (145mm squared). Whichever option you choose, it will contain all of the details you give to us for the service.
After THE DAY ITEMS | THE ADA WEDDING STATIONERY COLLECTION
THANK YOU CARDS
Finally, don't forget your thank you cards. Once the wedding is over, you'll want to share your gratitude to all of your friends and family for their support and for attending your wedding. Here you have a choice of either a flat postcard-style thank you card (either A5 or A6) or a traditional folded card (145mm squared). As with the rest of the collection, the thank you cards feature the outline of delicate petals along the border and a modern calligraphy font.